Omaha
Scotch Watch
Newsletter


August, 2001
Volume Nine
Number Two
Willie and the Cool Guys - Part Two
Upon arriving in Spey our first day of visits was limited since it was a Sunday. However, many of us had been curious about a large commercial distillery and our chance came when we visited Glenfiddich. The added bonus was the visit to Balvenie which is a favorite of the entire group.

Glenfiddich was amazing in just the scale of operation and the number of visitors that came through on a Sunday. Luckily, by calling ahead we got Mary Shand to lead our tour (A Cool Guy Tour). Mary had been working for Glenfiddich for 18 years and was from a family closely tied to the distilling industry and that made the tour very interesting.

We started in the "film room" which was a very large theater with bench style seating.

Headsets were provided so that the film could be watched in several languages (we told you this was quite an operation).

The room was full of visitors and there must have been four or five tours going on from that point simultaneously. Mary whisked us out first and we could see people looking at us wondering "who are these guys?"

Glenfiddich has two still rooms, one heated with coal and one heated with natural gas. Only the still room heated by natural gas was in operation while we were there. In both there are eight spirit stills (4550 liters) and five wash stills (9100 liters). Clearly the stills are quite small by industry standards.

The distillery has two mash tuns and they do eight mashes a day when they are in full production. There is no silent season (it is not necessary with two still rooms). They generate about 50,000 liters from the two washes. As with most distilleries, Glenfiddich does a combination of brewers and distillers' yeast and it is pumped into 24 wash backs made from Douglas fir. It was clearly the largest operation we had seen in our two trips to Scotland.

About 75% of Glenfiddich is sold as single malt which is very high compared with other distilleries but since it is the highest selling single malt in the world this is not surpnsing.

The middle of the run is usually between 66 and 74% alcohol depending on the amount of feints that is being fed back into the spirit still. Average i$ about 70 percent. It was perhaps the first distillery that opened to the public in 1969. Today they use 40 guides and produce 100,000 liters of spirit on-site. We also got a quick look at the bottling plant even though it was not in production at the time. It was our first opportunity to see how the production worked from start to finish.

Our trip across the road to Balvenie was a totally different experience. Here everything speaks to tradition. Floor maltings still occur (they stopped at Glenfiddich in 1958) with about 10 percent of the total maitings occurring on-site. Very limited amounts of peat goes into Balvanie.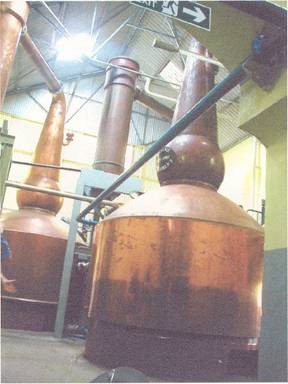 Figure 1: The Stills of Balvanie
A key fact we learned was that there are two cats between the two distilleries. Archie guards Glenfiddich while Ginger guards Balvanie. We also leaned that Mary's son is the manager at Ben Nevis and her deceased husband had been a manager at Glenlivet for a time. The family connections run strong among distilleries.
Only about 25% of Balvanie goes to single malt. There are five spirit stills (12,729) and four wash stills at Balvanie (12,729) and interestingly it is usual for Balvanie to purchase used stills from other distilleries. In this case one of the stills was from Lagavulin and one from Glen Albyn. It raises a question about how critical the shapes of stills are since there was a mix here.
We thank Mary for the great tour of both distilleries and we knew how lucky we were to have been treated to her expertise
After the trip to Glenfiddich we had time for a quick trip to Glen Grant which was not on the schedule, but with minutes to spare we made it in the door before closing.
Glen Grant was very standard faire. Still, it was a good experience and we gained quite a bit of information. The water is soft and comes from the Caperdronich Well. The distillery uses Optic Barley common to most that we visited. Not much peat is used in the process but they do use 300 to 400 tons of barley per week in the process. The processing of producing worts is about six hours and Glen Grant uses a 12-ton Mash to 60,000 liters of water. They have 10 Oregon pine wash backs each 19,916 liter capacity. Whole process of fermentation takes 42 to 48 hours. Glen Grant has four wash stills (22,730) and four spirit stills (11,547). The middle cut runs from 63 to 65% alcohol. The warehouses still have earthen floors and the distillery stores about 12,000 barrels on the site. The guide indicated that Glen Grant is the lightest of the Speyside malts with 20% going to Chevis Regal along with its partner distilleries Longmorn, Benriach, and Strathisla.
We returned around six pm to our Hotel (Skye ofCurr) and had a wonderful dinner of beef and kidney pie with a prawn cocktail. Later Bill, Willie and Nelson joined in a game of pool and B.J. joined them and kept Willie from looking too bad.
On Monday we left the hotel early for our first visit to a Cooperage. The facility in Speyside outside DufRown is the largest of the commercial cooperages. Their visitorís center was wonderful and the time given to us by our tour guide Reggie Grant was exceptional. 97% of the wood used in casks comes from North America, particularly Missouri. An interesting factoid: 5 American whisky barrels produce four hogsheads of 56 imperial gallons (250 liters).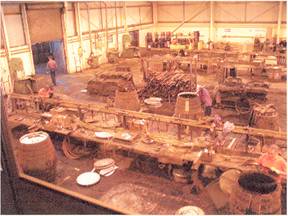 Figure 2: Cooperage at Dufftown
The cooperage repairs or builds 100,000 casks a year with 20 working coopers. Most of the wood imported is for the ends of casks since much work is done rebuilding rather than producing casks from scratch. The coopers are paid by the number of casks they produce (piecework). We also learned that the cooperage is experimenting with micro waving casks rather than charring them the traditional way. They are also experimenting with producing organic whiskeys. It was a great tour and added to our understanding of the process.
Our next stop was Aberlour where Ann Miller was our guide. Aberlour normally does not do tours so we were fortunate indeed to have Ann shepard us around. We met in the Fleming Room which was formally the brewery for Aberlour. We received a bit of history about St. Drostan's Well that dates back to the 7th century A.D. and the fact that St Droman who was a nephew of St. Columba may have been the first to distill whisky in Scotland.
Aberlour was founded by Ames Fleming in the 1870s at the sight of an old sawmill. For those who have not been at the distillery it is a beautiful facility with wonderful presentation of the different stages of the process. Ann indicated to us that Aberlour has become a favorite in France and is used heavily in Clan Campbell Blends that are marketing almost exclusively in France. Not surprising since Aberlour is owned by French Company The Pernod Ricard Group.
Aberlour uses six wash backs that are mainiess steel closed systems. The mash tun produces about 60,000 liters of worts and fermentation takes 48 to 60 hours. The distillery uses two persons per shift and they use a circuit riding manager who also oversees The Edradour distillery.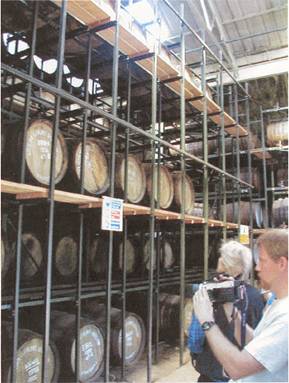 Figure 3: Cask Room at Aberlour
Aberlour has two wash stills and two spirit stills which are fairly short but have a wide body. Ann noted that the taller the stills the lighter the vapors and therefore the lighter the malt. The distillery also has a very sophisticated heat exchanger system which links condensers to steam heating the stills. It was established in the 1980s and has proved to be very efficient.
Aberlour uses about 1/2 bourbon casks and 1/2 sherry casks. About half are 1st refill and about half are 2nd refill. Not all casks are stored on site. We also saw something unique called Whinstone Towers which were added in the 1930s that help purify the water used in the distillation process.
Once we finished with the tour we stopped off for a wonderful tasting that included the 10,12 and 15 year old Aberlours sold in duty free and the 10 and 15 YO that are sold within the country. The differences were striking but wonderful. Ann was a terrific hostess and we learned a great deal. We ended the tasting with an offer that she come join us in Omaha for a vertical tasting of Aberlour sometime soon.
After our visit to Aberlour we headed to the Gordon & MacPhail Shop in Elgin for a special tasting and special it was. We sampled Caperdronich Rothes 1980 18 YO from refill bourbon casks, a Highland Park 1970 2nd refill bourbon cask.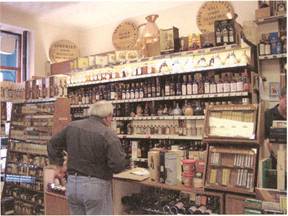 Figure 4: Gordon & MacPhail Shop in Elgin
This 30 YO was stored for 12 years on Orkney and the last 18 years in Elgin. We next tasted a 1974 Ledaig from refilled sherry casks bottled in 2000. Our final tasting was ofa Longmom Glenlivet (any additional info on this one?). An were outstanding and we were also treated too about a 1/2 hour in the store buying lots of different bottlings that were not available anywhere else.
Our final visit on this day was to The Macallan. We arrived somewhat late and had a choice of a tour or a tasting. We were assuming a typical tasting so many waned to do the tour. The tasting seemed a bit steep in cost (15 pounds). The guide indicated that they would waive the cost so we decided on the tasting.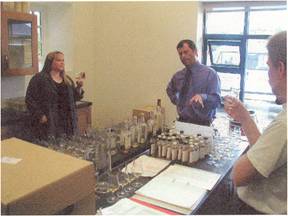 Figure 5: Tasting with Ian at Macallan
This was probably our best decision of the trip. We were routed into a tasting room filled with glasses of whisky and were introduced to one of the two nosers at MacalIan Morrison. Ian was probably the most knowledgeable person we met on whisky. He allowed us initially to nose and taste several different Macallan starting with whisky straight from the still. We then nosed whisky from a IQ YO Sherry Cask, a 10 YO Oak Cask (that's right a Macallan aged in oak casks) and a IQ YO from a refill oak cask.
Ian was helping us understand the complexity of whisky and how the mixing of different casks leads to the consistency of the final Macallan product. He also pointed out that he often noses and tastes whisky as low as 20 % alcohol per volume. The reason is that he may nose up to 25,000 casks per year and he would ruin his ability to nose and sample whisky if he did it at full strength all the time.
The highlight for all of us was not only sampling different vintages of Macallan but for fan to pull off the shelf two small bottles of 50 YO Macallan for us to sample. He pulled a small amount with a syringe and we from these two casks. What an outstanding experience!
We may have missed the tour but nobody was complaining!
We returned to the hotel with chocolates (thanks to Pat) and flowers (thanks to Sheila) for Aileen to help her celebrate her birthday. Dinner was steak and a little champaign and cake. We were pretty bushed and everyone disappeared after dinner to pack and rest up for the last full day of the trip.
Our last day started early since we had to be in Edradour bright and early. We gave hugs and goodbyes to Trevor, Aileen and Peter the cook. Aileen then gave each of us a miniature whisky bottle with a Skye of Curr label. Many of us hope to be able to stay with them when we return.
Jim led the tour of Scotland's smallest distillery. We started with a short film plus a tasting of the 10 YO. Edradour makes only 15 casks a week using sherry butts (3,000 liters a week). A sister distillery to Aberlour the whisky is produced for Glen Campbell blends.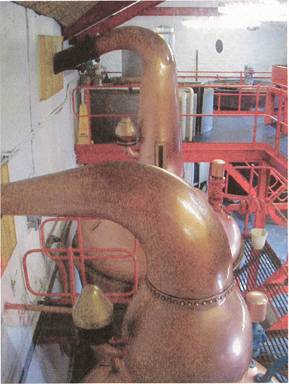 Figure 6: Stills at Edradour
The wash still was only 4,218 liters. The maltings as with most distilleries were done away from the distillery. About 18 months ago they changed the shape of the single malt bottle so it was the first time many of us had seen the new presentation.
We found the cooling tanks interesting since the distillery still uses worm tubes to cool the vapors coming out of the stills. The stills themselves were made m 1937 and 1950 with replacement parts over the years. The mash tun holds 3,000 liters and Edradour still dumps the yeast into the wash back by hand. The distillery uses I st, 2nd and 3rd refill sherry and oak casks
After Edradour we headed for Edinburgh to tour and enjoy the sites after checking into the Beverly Hotel. Bill and B.J. spent most of this time in the Jekyll and Hyde Pub sampling a few and discussing world peace. We all met at the castle entrance and Willie picked us up to head to the Vaults of the Scotch Malt Whisky Society. We were joined by our friend John Butler and his wife Helena as guests of the evening.

Figure 7: Dinner at the Vaults
What an evening this was. (http://www.smws.com) We were met at the door by Abrigal and Suzie Weigert. Suzie was our host for the tasting that began before dinner. She discussed how flavors linked to the foreshots, middle and feints. Early the heart of the run is where the most estery notes derive. Later in the run comes the mustiness (honey, leather, tobacco) and sulfur compounds (rubbery notes and egg shells) and the feints are where fishy notes evolve.
We started with a Rosebank 10 YO at 58% Alcohol. The tasting notes reflected on a nose of tart green apples and cinnamon. This was followed by an 11 YO Mortlach - a real favorite of everyone. It was aged in sherry-wood and tasted of "sourdough bread" and was unusually smoky for a Spey.
Next was a wonderful 27 YO Glenlivet with apples, chocolate-covered cherries and burnt toffee. Wow was this one good.
Our favorite, however, had to be the 31 YO Highland Park which was described by the SMWS tasters "as good as it gets" and we could not disagree. From a refill sherry butt this whisky had a deeply fruity nose with orange peel and a taste that was "sweet and waxy, with a hint of sherry and a thread of smoke." Outstanding!!
During dinner we had the last bottle, a 24 YO Bunnahabin, also a wonderful dram. The dinner itself included smoked salmon and pheasant with haggis. What a great way to spend our last night in Scotland.
The next morning we were off to the airport with one more distillery on the way,Auchentoshan. We were greeted by distillery manager Ronnie Lemond. This along with Balblair were the only tours actually given by distillery managers so we got a tremendous amount of information in a short period of time.
Auchentoshan was originally a farm in the 1800s and became a distillery in 1823 when the triple distillation process was brought over from Ireland. They run the total process from Sunday evening until Friday afternoon producing 34,000 liters of alcohol through 12 mashes. Ronnie noted that they try to buy barley from Scotland when possible (Chalice). . They derive 460 liters per ton and use 81. 9 tons per week. The malt is purchased under specifications related to moisture and alcohol content. They work with three different malsters.
The mash tun includes three infusions of water but unlike most distilleries, Auchentoshan's last infusion of water is cooler that the middle infusion. This is because it is harder to cool down and this affects the quality of the wort as it goes into the wash backs. There are six wash backs, three wood and three stainless steel. Auchentoshan uses dry yeast in 7 kilo bags with -a useful life of two to three years. Using dry yeast adds to the constancy of alcohol that results. He noted that the higher the alcohol content the smoother the finish. In the summer they produce fewer mashes because it's harder to get the temperature as low as they need to (20 degrees centigrade) after producing the worts.
Also, the spirit matures more quickly because of higher alcohol content. Each mash produces 35,500 liters of wort for fermentation over a 48-hour period. About eight percent of Auchentoshan goes for single malts and the rest for blends. Their recent three wood bottling includes 10 YO aged in oak finished six months in one sherry cask and six more months in another sherry cask. There are only three stills at Auchentoshan. The wash still (17,000) the intermediate still (8,000) and the spirit still (11,500). Foreshots are only five minutes. The process works so that the middle of the run last about five hours and the feints last about five hours. 23,000 casks are kept on site both stenciled and bar coded. They are physically checked every six months. After the tour Ronnie took us to the tasting room where we sampled several bottlings of Auchentoshan. What a grand way to end our tour.
We want to thank all of those who made our trip so wonderful, particularly Willie Wallace of CelticLegends Touring. It was his preparation, good spirits and willingness to adjust that made it such a treat. Thanks also go to Kate Kilgoyne who helped set the trip up in the first place and who linked us into Willie.
The ScotchWatch newsletter is a joint project of Bill Wakefield and B.J. Reed. Anyone with questions or who wish to contirubte an item should contact B.J. (breed@mitec.net or by phone at 402-556-5509