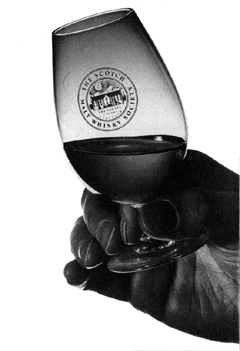 The name "White Horse" comes from an ancient inn in Edinburgh's Canongate frequented it is said by Bonnie Prince Charlie's men. A white horse has long been a symbol of victory. John(ny) Walker was originally a licensed grocer in Kilmarnock before he, but principally his son, built up the business and the brand name. [rjsm]

It is reckoned that at one time there were over 40,000 whisky stills in Scotland.

The shape of the conventional whisky 'shot' glass, being wide at the top and tapering in towards the bottom was originally designed to disguise the taste of raw grain spirit in inferior whisky by dissipating its smell. Serious appreciation of whisky requires a tulip-shaped 'nosing' glass (illustrated) which retains the 'nose' or aroma of the whisky.